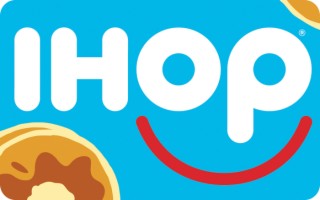 Some of the best memories are made at the breakfast table. For more than 58 years, at more than 1,600 locations, millions of people have made those memories at IHOP. Fluffy pancakes, omelets layered with flavor, the iconic Rooty Tooty Fresh N Fruity, and more than 30 Simple and Fit menu items all under 600 calories, nobody does breakfast better than IHOP. With IHOP gift cards, you can start the day off right. Whatever the occasion, wherever you are, create a memory with an IHOP gift card.
Redemption instructions
Redeemable at IHOP locations in the U.S. only.
Terms & Conditions
This gift card is usable up to balance only to purchase goods or services at any IHOP® restaurant in the U.S. and Canada. Not usable to purchase gift cards. Card is not redeemable for cash unless required by law. This is not a credit or debit card. Safeguard this card. It will not be replaced or replenished if lost, stolen, damaged or used without authorization. IHOP TPGC, LLC or the Franchisee of the independently owned restaurant where card was purchased is the card issuer. IHOP TPGC or Franchisee may delegate its issuer obligations to an assignee. Purchase, use or acceptance of card constitutes acceptance of these terms. For remaining balance or other inquiries, go to ihop.com or call 1-855-316-7063.©2016 IHOP Restaurants LLC